A node is a point in a network where data or communication can enter or leave. In the context of blockchain, nodes are computers that store and relay information about transactions on the network. Nodes play an important role in ensuring that the network runs smoothly and securely.

In order to participate in a blockchain network, each node must have a copy of the blockchain. When a new transaction is made, it is broadcast to all nodes on the network. Each node then verifies the transaction before adding it to their copy of the blockchain.

This verification process helps to ensure that all transactions on the network are valid and prevents fraud. After a transaction has been verified by all nodes, it is considered confirmed and cannot be altered or reversed. This makes blockchain networks highly secure and tamper-proof.

The decentralized nature of blockchains means that there is no single point of failure and no single entity in control.
If you've been following the cryptocurrency space at all, you've probably heard the word "node" thrown around a lot. But what is a node in blockchain? In short, a node is a computer that is connected to the blockchain network.

Nodes help to keep the network secure and running smoothly by verifying transactions and blocks. They also relay information about the network to other nodes. Running a node is not difficult, and anyone can do it.

All you need is a computer with an internet connection and some storage space available. There are even some rewards available for people who run nodes, as they help to keep the network running. So, if you're interested in helping to secure the blockchain network and earn some rewards in the process, consider running a node!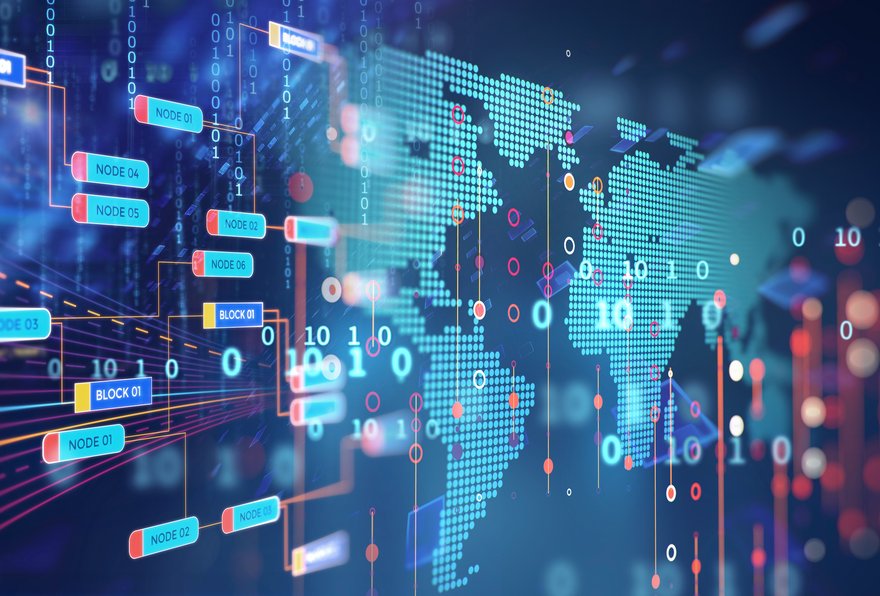 Credit: www.fool.com
What is a Node in Blockchain
A node is a computer that connects to the blockchain network. It can be either a full node or a lightweight node. A full node stores the entire blockchain and validates all transactions.

A lightweight node only stores a part of the blockchain, called a "header chain", and relies on full nodes for validation. Nodes can also be categorized as follows: – Mining nodes: these are nodes that mine new blocks and add them to the blockchain.

They usually have powerful hardware in order to be able to solve the complex mathematical puzzles required for mining. – Full nodes: as mentioned before, these nodes store the entire blockchain. They validate all transactions and blocks before they are added to the chain.

Full nodes also relay information about new transactions and blocks to other nodes in the network. – Lightweight (SPV) nodes: these nodes only store a part of the blockchain (the header chain). They rely on full nodes for information about new transactions and blocks, but don't have to do any heavy lifting themselves since they don't store the entire blockchain.
How Do Nodes Work in Blockchain Technology
In order to understand how nodes work in blockchain technology, it is first important to understand what a node is. In computer science, a node is simply a point in a network – it can be thought of as a junction where data or traffic intersects. In terms of blockchain technology, nodes are devices that participate in the network by running the software required to maintain the blockchain.

Each node in a blockchain network possesses a complete copy of the blockchain ledger – this means that they can verify and validate transactions that take place on the network. Nodes play an essential role in ensuring the security and stability of the network as they help to propagate new blocks throughout the system. It's worth noting that anyone can run a node on a blockchain network – all you need is the necessary hardware and software requirements.

By running a node, you can help to contribute to the overall health of the network which is why many people choose to do so.
What are the Benefits of Using Nodes in Blockchain
There are many benefits of using nodes in Blockchain. Nodes help to keep the network secure by validating and relaying transactions. They also contribute to the decentralization of the network, which makes it more resistant to attacks.

In addition, nodes can earn rewards for their participation in the network, which helps to incentivize their involvement.
Nodes in Blockchain
Conclusion
A node is a computer that maintains a blockchain and helps to keep it secure. Nodes store, validate and relay information about transactions occurring on the blockchain. In order for a transaction to be added to the blockchain, it must be validated by the nodes.

The more nodes there are in a network, the more secure it is.
I'm a freelance writer specializing in investing and financial topics. I write for many different websites and have done extensive work with Seeking Alpha. My work is available on my website: coinlegit.com
My name is Jay Skrantz, and I've been a freelance writer for 10 years, concentrating largely on investment brokerage, mutual fund investing, and financial analysis topics. As a reporter, I've written extensively for a wide variety of sites and publications like SeekingAlpha, MoneyShow, and MotleyFool. I've also done substantial freelance work for a number of financial publications, including MarketWatch, CIO Magazine, and TheStreet.